We're believers in better beer. And we're committed to recognizing others who share this same belief. From customers to bartenders, we're shining a light on the ones who continue to spread the word and the wisdom that can only come from a beer that's created and not made. Because who needs brand ambassadors when you can call on patron saints?
Saint Gary, Patron Saint of the Irish Goodbye
He goes by many names—Casper, Mr. Invisible, the guy on the Milk Carton, but most know him as Gary. One moment he's the life of the party, conjuring good spirits and good times, the next—he's gone. Leaving all who were with him wondering, "Where the hell did Gary go?" Don't believe him when he says he'll BRB, for his decision has already been made. Some say he ghosted his own birth. Others say he's only a figment of your beer-induced imagination. But enjoy each moment you have with him because his presence is a present and when he's gone—he's gone. And you probably won't realize it for a solid 20.
Saint Britney, Patron Saint of Bathroom Besties
Booster of confidence, complimenter of clutches. She is the instant bestie. Tales of her support are whispered in the never-ending line to the women's bathroom. It's said that her mirror selfies resemble that of a Baroque masterpiece—#baroquebitches. Men wonder why the women's lines are so long, but little do they know that the confessional takes time, and Britney cares for each and every one of her new besties. Whenever you're down or you just need to talk, follow the angelic sound of "YAAASS Queen," and know that Britney is there waiting by the hand dryer.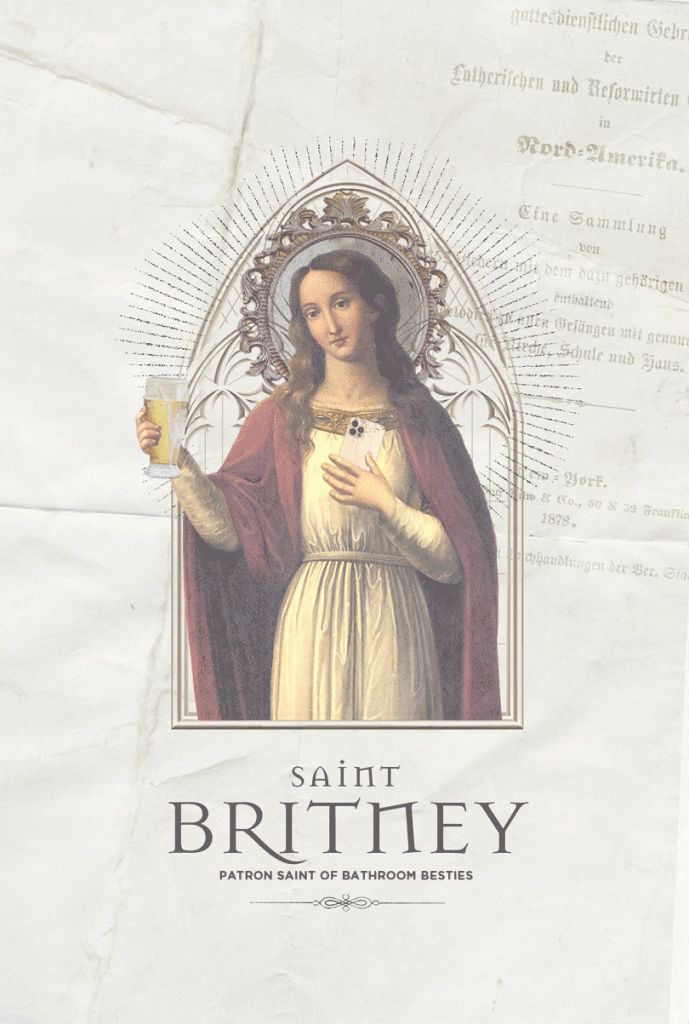 Saint Larry, Patron Saint of Hold My Beer
Did someone say backflip? Larry might not be the brightest, but what he lacks for in brains he makes up for in marbles. To him, a table is more than table, it's an opportunity to drop his nearly-famous flying elbow. Street signs are more than street signs, they are moments to show everyone he can touch it with his forehead. And a handrail isn't just a handrail, it's how he slides right into your heart and the emergency room. If you are chosen to hold his beer, consider yourself blessed, for you are going to witness the most disastrous of miracles. Some say they've seen Larry walk on water. Others say he did an epic belly flop into it—depends on who you ask. But if you ever find yourself asking, "What would Larry do?" Just know, it's probably not a good idea.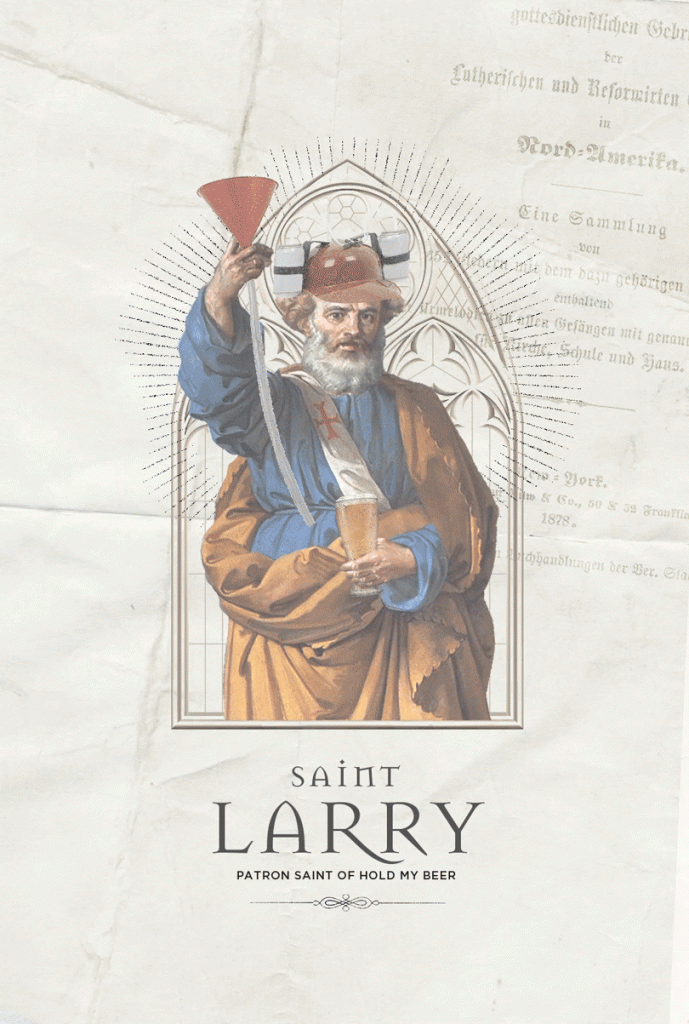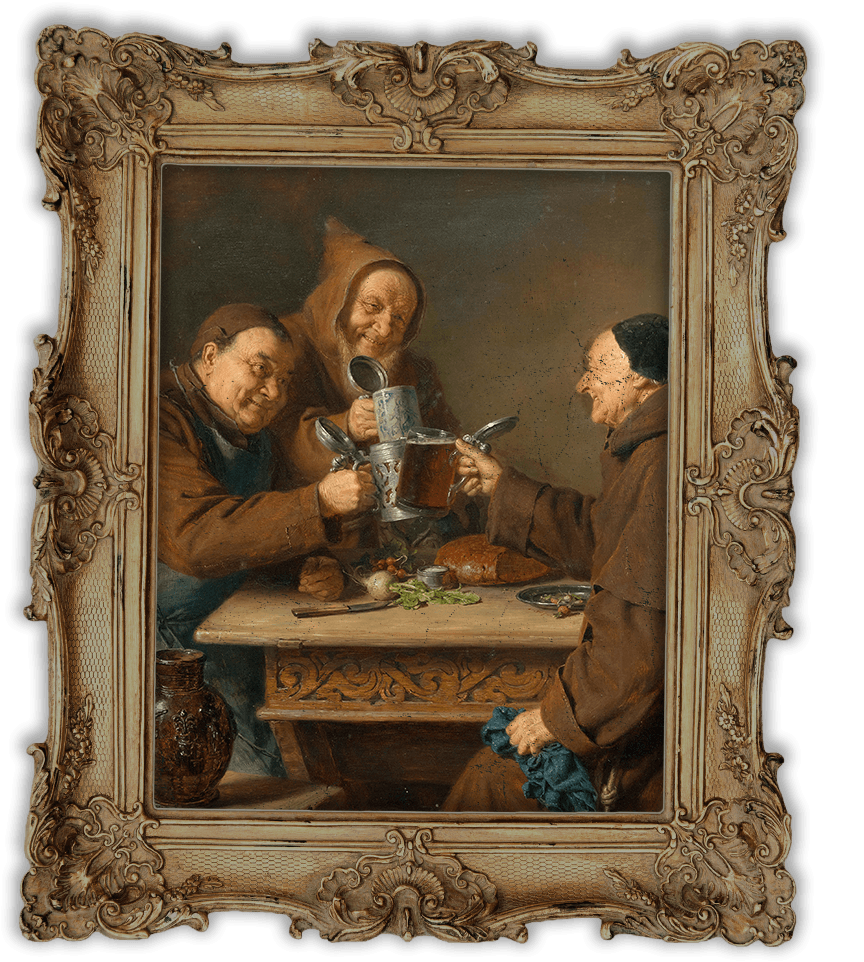 The Shop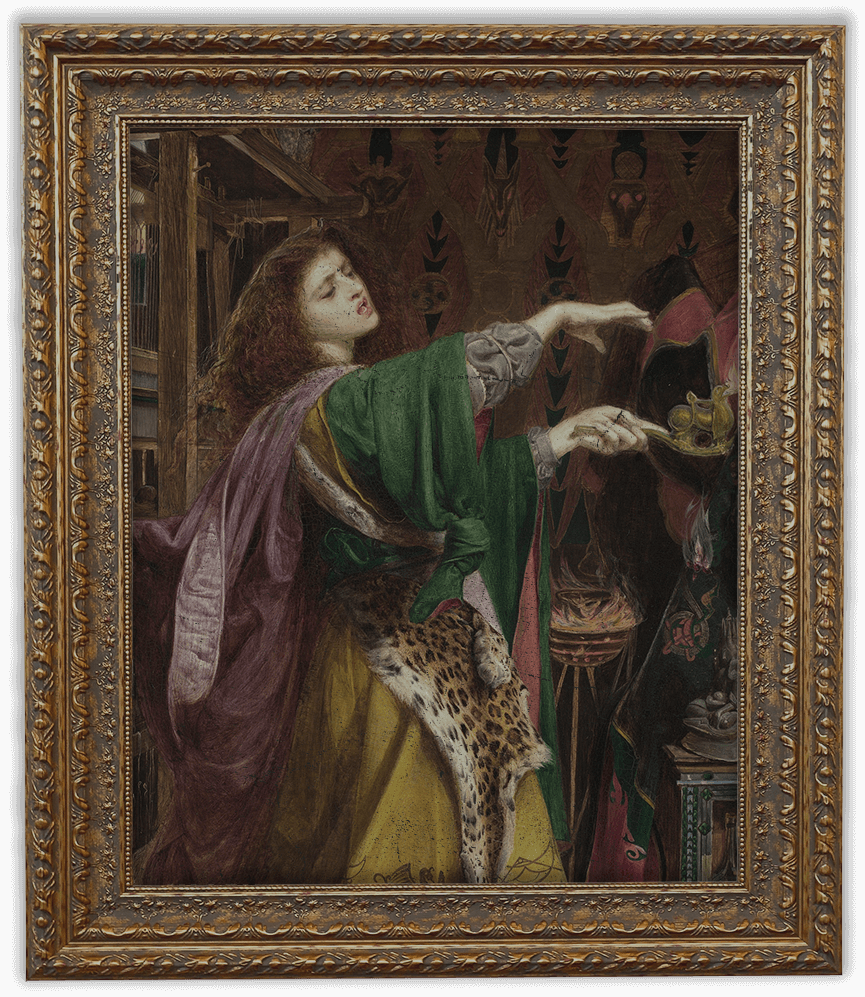 The Taproom